Cats are a Christmas tree's worst enemy if dogs are man's best friend. Even the most docile feline companions can turn into an evergreen-climbing, ornament-shattering menace in December, causing havoc with many a holiday decor scheme. Cats are natural climbers and explorers, so it's difficult to blame them for wanting to investigate a new tree that has been placed inside the house. When we add what appears to be the equivalent of shiny cat toys, it almost seems as if a cat would be more concerned if he didn't want to explore this new wonderland.
So, how do you prevent your carefully curated Christmas tree from turning into an oversized cat toy? The truth is that there is no one-size-fits-all solution—after all, every pet is unique—but there are a few preventative measures you can try to keep your cat away from the Christmas tree.
ALLOW TIME TO ACCLIMATE
Making a bed for your cat beneath the tree may help sate their curiosity.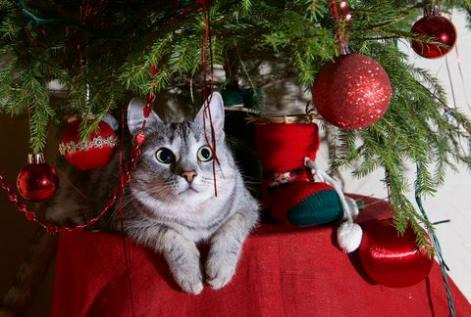 Cats can be extremely sensitive to changes in their environment, so it's critical to give them time and space to adjust to your new tree. Instead of discouraging the cats' natural curiosity, leave the tree naked for a few days—no treasured childhood ornaments will go flying—and give them free rein. It's normal for cats to sniff, climb, or scratch. The more time they have to investigate this, the better. Because they will become accustomed to it.
LOCATION, LOCATION, LOCATION
Placing a tree on a tabletop or off-limits area can discourage cats from jumping inside.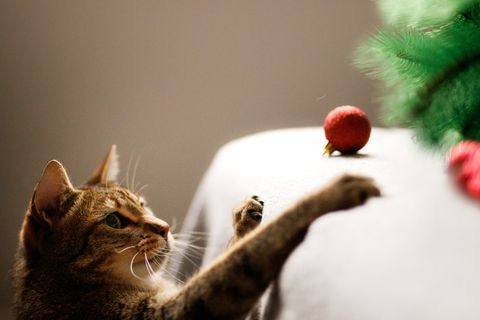 A Christmas tree and cat relationship is sometimes doomed from the start. What is the most important factor? Location. Some areas of the house will be more appealing for timber traversal than others. Keep the tree away from any furniture that the cat could jump from and place it in a room that the cat will not be able to access. After all, when cats have already been briefed on restricted areas, it's more difficult for a Christmas tree to become a climbing tree.
The cats have been trained not to go on certain surfaces, so that is one way we keep them away from it. Extremely daring design enthusiasts may even try hanging the Christmas tree upside down from the ceiling, which will undoubtedly keep it out of reach of a family pet.
REORIENT YOUR ORNAMENTS
Consider moving dangling ornaments higher up on the tree to remove the temptation.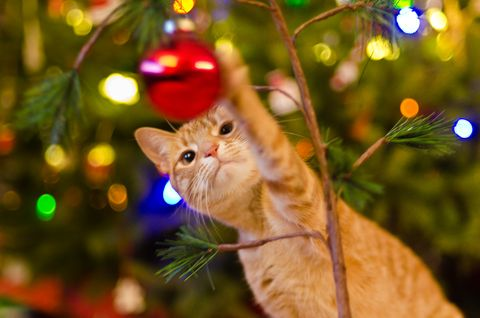 No matter how meticulous you are, a cat is bound to break an ornament or two. To reduce the temptation (and the collateral damage), keep glass breakables higher up on the tree, where they're safely out of swatting distance. That doesn't mean you can't decorate the bottom half of your evergreen with twigs, faux berries, or white berries. That way, it won't be obvious that you don't have any hanging ornaments. Felt decorations that will not shatter make excellent lower-tree options as well.
It's also worth noting which ornaments could be harmful to your cat's health. Items that can be easily ingested, such as tinsel or garland, should be avoided, as should plants such as holly, mistletoe, and poinsettia flowers, which can be toxic to cats. Wag! recommends that Christmas lights be hung higher up on the tree to avoid injury or electrocution—and that any stray wires be kept out of reach as well.
KEEP THEM BUSY
Invest in some new toys for your cats so they won't be as interested in scaling a Christmas tree.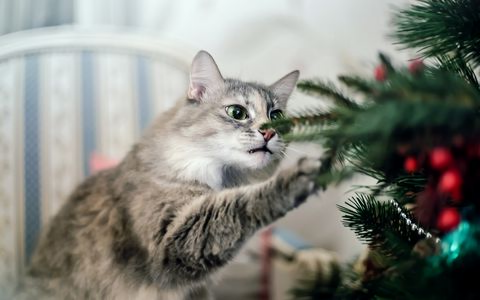 You'll want to avoid a bored cat if you've just set up your tree. Because cats regard Christmas trees as massive toys, having a variety of alternatives on hand can help distract them and keep them out of mischief. Provide them with additional outlets that satisfy their natural instincts. If cats do not find mental and physical stimulation in their daily activities, they will most likely seek it out on their own. In other words, if you haven't yet purchased a cat tree or scratching post, now might be the time.
TRY A FEW DETERRENTS
When all else fails, natural deterrents will keep curious cats out of trouble.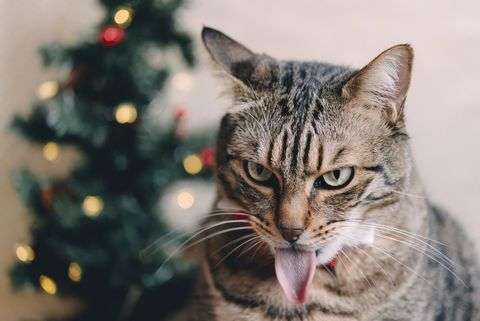 Cats can be stubborn, so a few natural repellants are sometimes the best solution. Wrap the tree's base in aluminum foil, place fresh sprigs of rosemary along the base and throughout the lower branches, and decorate with freshly dehydrated orange slices. Because cats dislike the smell of certain herbs and citrus, and aluminum foil can perplex even the most determined felines, these should help keep them at bay.
Of course, if you want to go the natural tree route, you should take a few extra precautions. Cats are notorious for drinking from a tree's water bowl, which isn't always good for their health.
Finally, and perhaps most importantly, remember to get your feline companions something for Christmas as well! (Especially if the tree survived unscathed.)