Description
x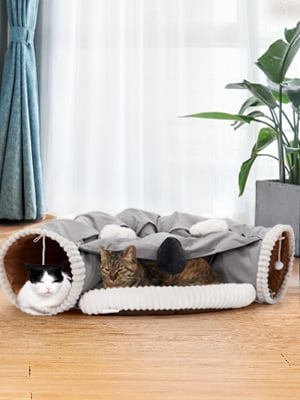 Active friends need an amusement park to release their energy!
Keeping your pets exercising for a period of time will be helpful to their health. COZIWOW Cat Tunnel is a perfect combination of exercise and leisure, giving your pets paradise!
Small balls on both sides can attract cats' attention, encourage them to play and bring more fun. By opening the zipper, you can easily have a cat tunnel that can accommodate two cats. Soft fabrics like clouds ensure pets do not get hurt while playing, let them explore freely and satisfy the cat's curiosity. They can also sleep lazily on the cushion, or have a nice sunbathe and spend a leisurely afternoon.
Both active kittens and quiet kittens can be satisfied with this toy! Give your cat such a happy fairyland!