Senior dogs, like their human counterparts, don't always realize their limitations, according to Dr. Travis Atkins, DVM, emergency veterinarian and co-founder of SquarePet Nutrition. "For example, my wife and I's first 'kid' was a Boston Terrier named Harley, who as a puppy could catapult herself from the ground to the center of the bed and back down without hesitation," Dr. Atkins explains. "However, as she failed to clear the height of the bed, there were sights reminiscent of daredevils slamming into walls."
If your senior dog continues to jump as he did as a puppy, it might cause pain and possibly harm. "Ramps, stairs, or impromptu furniture arrangement is critical for any challenged dog," Dr. Atkins explains.
If this sounds similar, it's time to investigate dog ramps and pet steps. Here is an overview of dog ramps and how to select the best one.
When Are Dog Ramps or Pet Stairs Necessary?
According to Dr. Atkins, a dog ramp may be an excellent solution if your pet has difficulties jumping onto things as he used to, or if he shows uncomfortable (panting, yelping, or restless) when a jump is completed. "If your pet hesitates or'lines up' excessively before jumping, or if he has been hurt or has a disability where jumping may predispose him/her to catastrophic injury—or, more crucially, re-injury," Dr. Atkins says.
According to Colleen Demling, dog behaviorist and licensed professional dog trainer at Dogtopia, dog ramps are also recommended for large breed dogs such as Great Danes and Bernese Mountain Dogs, as well as Labs, Goldens, and other breeds that have a greater risk of joint problems.
Dr. Jay McDonnell, DACVIM, a neurologist, agrees and advises dog ramps for puppies who have neurological disorders or diseases that limit their mobility, such as arthritis. "Many of these dogs lack the strength in their hind legs to jump into the back of a car or truck," says Dr. McDonnell, who handles pets with neurological and mobility impairments on a regular basis.
Pet ramps or pet stairs should also be used by dogs who have had a leg amputated or who have persistent joint problems. "Ramps not only make it easier for the pet to access the automobile or the rear door; they also safeguard them from injuries that could occur if the dog tries to jump into a vehicle or climb steps and falls backward," Dr. McDonnell adds. "Jumping out of the car or down the back stairs can also jolt and harm the spinal cord."
If you have a large dog who you are unable to physically carry into a car, training him or her how to utilize a pet ramp is also a good idea. A set of freestanding, foldable pet steps for large dogs can be folded up and placed in the vehicle, making them portable.
"You may not need to use the ramp on a daily basis, but if your dog becomes wounded or unable to jump in or out of the car, you want to ensure that you can still transport him in an emergency or take him to the vet," Demling adds.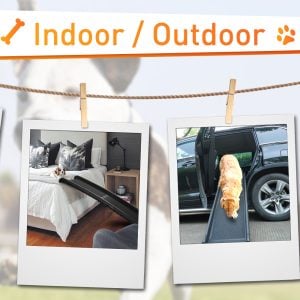 Dog Ramps vs. Pet Stairs
If you can't decide between ramps and steps, Demling says it depends not just on personal choice, but also on why your dog requires assistance in the first place.
Both ramps and stairs will suffice to assist your small dog in getting on and off the couch or bed. "Stairs also take up less space than ramps, so they're ideal for compact spaces like next to a bed or couch," Demling explains. "High-quality steps are also less expensive than high-quality ramps, making them an excellent choice for pet parents on a budget."
Foldable pet steps can be taken out when needed, but then folded up and tucked under the bed when not in use to keep the room from becoming cluttered. Foldable pet stairs are also ideal for sofas and chairs, as they can be moved to whichever chair you wish your pet to use.
While dog ramps require more space, they are frequently a better option for larger dogs. When selecting a dog ramp for your pet, make sure you can lift and utilize it without difficulty. "If the ramp is ideal for your dog but you can't move it into the car, it's useless," Demling explains. "It's also crucial to think about the length and width of the ramp, since your dog will need to be able to walk up and down it comfortably." If you have a large dog and the ramp is only a foot wide with a steep inclination, your dog will be less likely to use it. A ramp's optimal inclination is between 18 and 20 degrees."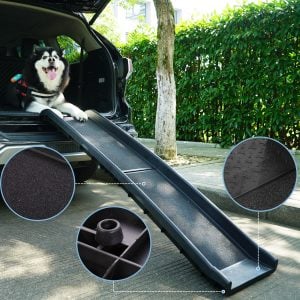 Choosing the Right Option for Your Pet
When you start looking for a dog ramp, you'll quickly find that there are numerous options available, ranging from different materials and thickness to quality and functionality. Demling recommends that whichever material you choose support the weight of your dog while remaining light enough to move and carry around comfortably.
Dr. Atkins further recommends considering its purpose (e.g., getting into a car, climbing into a bed, or getting on or off an elevated surface) as well as the size, age, and skills of both your pet and yourself. "Think about the situation, the requirement for portability, your capacity to manipulate, and your stylistic preferences, and make the greatest fit possible," advises Dr. Atkins.
A top surface branded as non-slip is a crucial quality to look for. "At the very least, there should be horizontal slats across the dog ramp that the dog can utilize to assist steady himself as he walks up the ramp," Demling suggests. "Also, make sure the ramp locks in place and has non-skid feet; we don't want the ramp to move or collapse while your dog is on it."
A Few Words of Caution
When deciding where to put your indoor pet steps, make sure your dog can discover and utilize them safely even in the dark. "Consider your pet's mental capacity and night vision. "As pets age, they can become disoriented at night, forgetting the location or being unable to see the ramp," explains Dr. Atkins. "Ensure that they can securely climb and descend on their own, even with the assistance of a ramp."