Halloween, a time of spookiness and magic, is not just for us humans. Cats, our mystical and enchanting companions, can also revel in the allure of this bewitching holiday. And what better way to make Halloween more enchanting for your feline friend than by incorporating the whimsical world of bats into their favorite hangout spot – the cat tree?
Cat Tree as Feline Havens for Halloween
The Cat Tree: A Feline Wonderland
Before we delve into the charming combination of cats and bats, let's take a moment to appreciate the essential role of a cat tree in your pet's life. They are more than just scratching posts and perches; they are magical realms where cats exercise, relax, explore, and rule their kingdom. These multi-tiered structures are the perfect stage for enchantment during Halloween.
Cozy Bat-Printed Cushions
Upgrade your cat trees' comfort factor by adding cozy bat-printed cushions to the perches. Cats love soft, warm spots for lounging and observing the world. The bat-themed cushions can provide that extra touch of enchantment to your cat's favorite hangout.
The Magic of Halloween Stories
Now that your cat tree is a haven of enchantment, why not share some Halloween stories with your cat? As you sit by the firelight or beneath the eerie glow of your jack-o'-lanterns, read your furry friend a Halloween tale. Cats are natural listeners, and the sound of your voice and the ambience of the season will undoubtedly cast a magical spell.
Enchanted Nights by the Cat Tree
Lastly, don't forget to share the enchantment of Halloween nights with your cat. Spend time together by the cat tree, perhaps with a book of spooky stories or by watching a Halloween movie. The cozy ambiance of your cat trees' bat-themed décor will add to the charm of these special moments.
Enchanting Bat Decorations on Cat Tree
Bat Decor: Spooky and Spellbinding
As Halloween approaches, you might find yourself transforming your home into a haunted haven with cobwebs, pumpkins, and eerie decorations. Your cat tree should not be left out of the spooky fun. Bats, with their association to the supernatural, make for an ideal Halloween theme, and cat trees can be turned into captivating bat-friendly zones.
Hanging Bats and Playful Perches
One way to enchant your cat tree is by adding bat-themed decorations. Consider hanging soft plush bats from the perches or platforms. Cats are drawn to dangling objects, and these cute bat companions will surely captivate their attention. Make sure the hanging bats are securely attached, so your cat can bat them around to their heart's content.
Glow-in-the-Dark Bats for Nighttime Mystique
For an extra layer of Halloween enchantment, consider adding glow-in-the-dark bats to your cat trees. Cats often become more active at night, and these luminous bats will create a mystical atmosphere. Imagine the enchanting sight of your cat leaping and pouncing amid the soft glow of these nocturnal creatures.
A Bat Cave Hideout
To take the enchantment to the next level, consider creating a bat-themed hideout within your cat tree. This could be a cozy cubby or a concealed spot where your cat can retreat and feel like they're in their own mystical cave. Decorate the interior with bat motifs and ensure it's lined with soft, comfortable materials.
Safety and Supervision of Cat Tree
Safety First
While enchanting your cat trees with bats can bring joy and magic to your pet's Halloween, it's essential to maintain safety. Ensure that all decorations are securely attached, avoiding any potential hazards. Be cautious about small, swallowable parts in toys, and always supervise your cat's interaction with the enchanting additions.
The Enchantment Continues
As Halloween draws nearer, your cat trees will become a world of enchantment that captures their imagination. The magical combination of cats and bats will cast a spell of joy and mystery over the season. While you decorate your home for Halloween, don't forget your feline friend's space. Enchanting their cat trees will ensure that Halloween is not just magical for you but for your beloved cat as well.
Bewitching Bat Mobiles
Hang bat mobiles or chimes from the cat trees' branches. These delicate ornaments will catch the slightest breeze and create an enchanting musical experience for your cat as they play with or simply observe the swaying bats.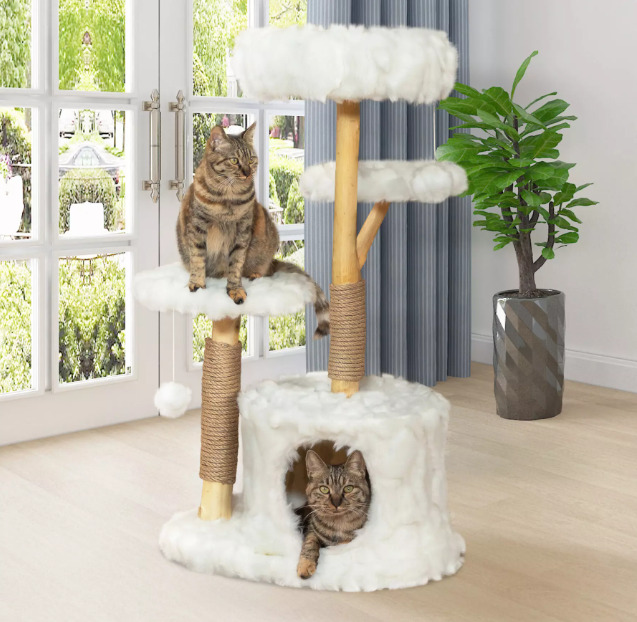 Sharing Enchantment with Your Feline Friend
Catnip-Filled Bats: A Spellbinding Surprise
Catnip-filled toys are irresistible to most cats. Why not surprise your feline friend with catnip-stuffed bat toys? These bewitching playthings will keep your cat entertained and are sure to cast a spell of delight. As they bat, swat, and chase these feline-friendly bats, you'll witness enchantment in action.
Purrfect Halloween Photoshoots
Take advantage of your cat trees' enchanting Halloween theme for some captivating photoshoots. Dress your cat in a Halloween costume and snap pictures of them perched on their bewitched cat tree. Share these enchanting photos on social media to spread the Halloween joy.
Witching Hour Playtime
As Halloween night approaches, consider dedicating a special playtime for your cat during what's known as the "witching hour." Dim the lights and use glow-in-the-dark toys to create a spellbinding atmosphere, where your cat can channel their inner sorcerer or witch while enjoying their enchanted cat tree.
Themed Treats and Elixirs
Halloween is synonymous with treats, so why not provide your cat with some catnip-infused bat-shaped treats? These edible delights can be both enchanting and delicious for your feline friend, adding to the Halloween magic.