Description
x
Features:
Pet-friendly Fence: confining pets' activity scope, get you a space without disturbance
New Zealand Solid Pinewood: eco-friendly,sturdy and durable
Outstanding Reliability: smooth stainless hinges, premium lacquer finish, no crack or deforming
Handy Lockable Door: easy access for humans to get through
DIY Potential: easy detachment, simple structure
No Assembling Required: instant use after unpacking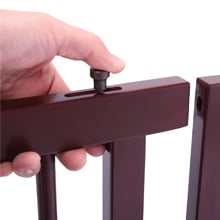 Lockable Door
The easy to lock dog door on this retractable puppy gate works conveniently to confine or let your puppy walk through.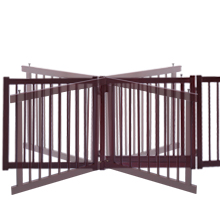 360° Rotation Hinges
The hinges work in both directions for easy folds up to store and multiple configurations to confine our furry friends.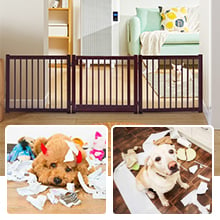 Freestanding Pet Gate
Extending up to 81.5 inches long, this gate provides an unbroken wall and a no-dig pet fence that ensures no harm to your walls.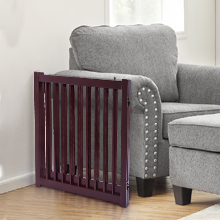 Foldable Pet Playpen
This foldable dog gate is easy to store and can be placed next to your furniture or reclined under the sofa without taking up space