Your dog, whether a senior with mobility issues or a dog with short legs like Dachshunds or Corgis, requires stairs or ramps. In addition, even if your dog is healthy, agile, and can climb easily, he needs a ramp or stairs to avoid additional stress on his joints.
Dog ramps and dog stairs serve essentially the same purpose. They allow dogs to access higher places and reduce joint wear and tear. Furthermore, it eliminates the need to lift your dog every time you want them in your car or bed. Keep reading, we are going to discuss dog stairs and ramp in this article.
When to Consider a Dog Ramp or Stairs
Every dog is unique in terms of personality, breed, size, life stage, and medical conditions. So, now that I've discussed five different scenarios and whether stairs or a ramp are better suited to them.
Senior Dogs Who Generally Have Trouble Climbing
Because of their lifelong agility, senior dogs' bones have seen a lot of wear and tear. They can't just bounce beside you on your couch to cuddle because they're old and less mobile.
And if you're not around and your dog wants to sleep on your bed, it can do so painlessly. Dog ramps are generally preferable to stairs for senior dogs because they are easier to use.
If your senior dog has trouble getting into the car, your bed, or the couch, you should consider getting a ramp. If space is the issue, you can get the one that folds. Usually failed attempts to be on high spots is the first alarming sign that your dog badly needs a ramp.
Arthritic Dogs
Dogs can develop various types of arthritis, which causes excruciating pain and discomfort when they climb up or down. In fact, an arthritic dog may experience pain when touched, making it impossible to lift them up. Dog ramps are ideal for such animals.
Small Dogs
It's easy to understand how difficult it is for a teacup or toy dog to climb surfaces as low as 20-25 inches high. They appear to be cool at times, leaping from the couch and the car. However, their daily jumping up and down scores may exceed what their joints can withstand.
Ignoring this can lead to arthritis and bone injuries. The same is true for dogs with a disproportionate body to leg ratio, such as Dachshunds. They must always be snatched up.
Dog stairs with appropriate step heights or ramps are ideal for your pal. Both can be taught to them.
Puppies
Puppies are too small to bounce from even the smallest of steps. Those critters make such amusing sounds when they stumble and fall while walking. However, they are growing and have delicate bones and joints.
The impact of jumping from a great height can result in serious injuries. Overall, you either hoist them every time or use a ramp if they want to sit on your couch or other furniture. Puppies seem to scurry all the time, so a ramp can be a great safety measure in your absence.
Dogs With Injuries and Recovering
If your dog is injured and recovering, he may require assistance in getting to higher places, such as your bed, couch, or car. When considering a ramp or stairs, consider the following injuries: pain in the shoulders, legs, or joints, broken toes, paw pad injuries, traumatic elbow joint, slipped knee caps, injuries caused by jumping down from higher surfaces, and spinal injuries.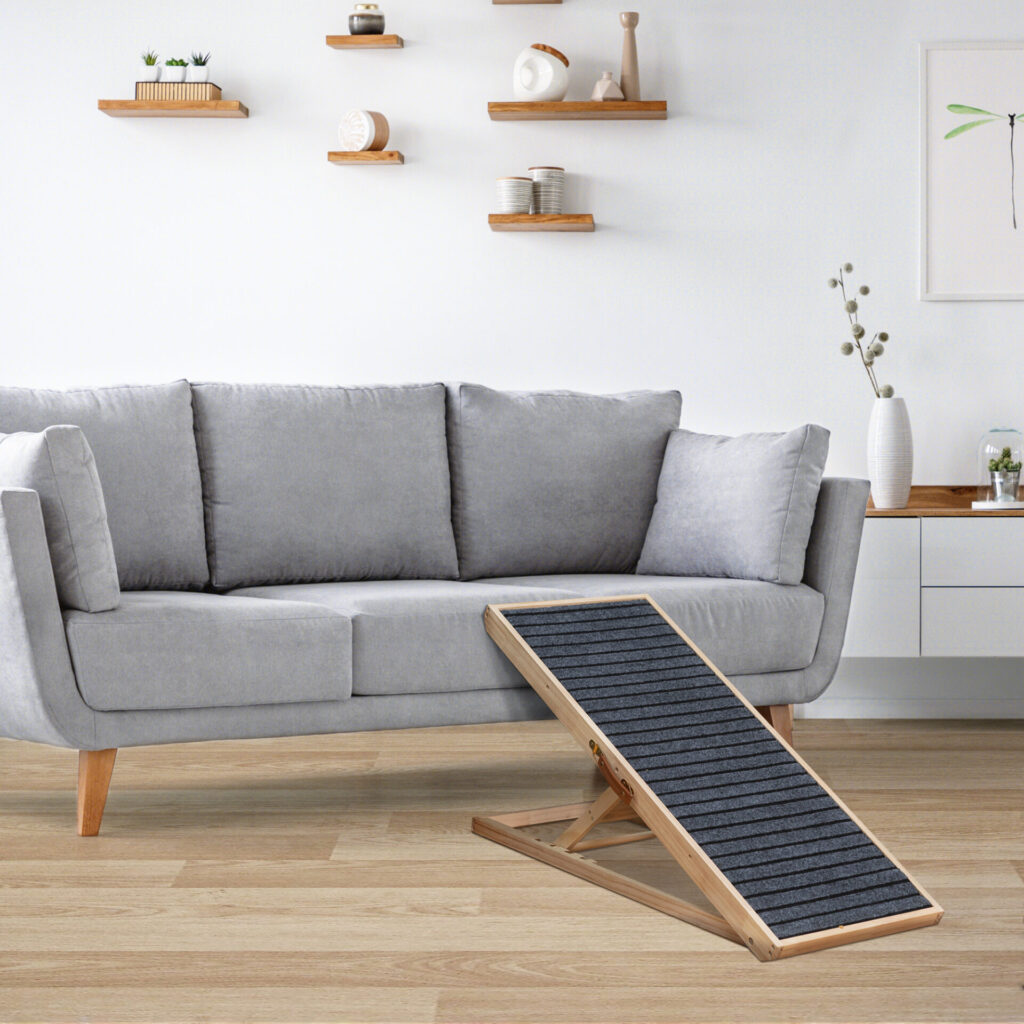 Stairs Vs. Ramp
The purpose of a dog ramp or stairs is the same, but because their structures differ, you may prefer one over the other in different situations.
While dog stairs obviously make high surfaces more accessible, they can still put strain on joints and ligaments. A ramp, on the other hand, is equivalent to inclined walking and is more comfortable than stairs.
Dog stairs, on the other hand, are ideal for agile dogs or canines who can easily navigate climbing stairs.
However, if the dog has difficulty climbing stairs, you will need to teach him how to use them first, or a ramp would be a better option. "Some big cars or trucks are higher than most normal cars, and a dog can't get into space easily," says Tiffany Morefield, DVM, Author & Veterinary Advisor at DogNeedsBest. In this case, collapsible dog ramps for cars and SUVs are ideal because they can be easily stored in the trunk and are simple to install."
Overall, whether you choose stairs or a ramp is entirely dependent on your dog's comfort. If you ask me, I always prefer a ramp over stairs whenever possible.
How to Choose Dog Stairs
Deep steps make it easier for a dog to climb. If your dog can climb human stairs without difficulty, a stair height of 10-12 inches should suffice. If you have a puppy or a small dog, however, you should get foam stairs that are relatively low in height. However, it should be noted that foam stairs are not suitable for large dogs.
If you are unsure about which stairs would be a good fit, please refer to the product description. It always specifies the maximum weight and dimensions, which can aid in decision-making. Please also ensure that the stair surface is anti-skid for better traction.
What to Look For While Choosing A Dog Ramp
Check that the ramp you're considering purchasing is high enough so that a dog does not have to climb the surface when he reaches the highest point of the ramp. Not to mention that the surface should be non-slip so that your dog can walk on it.
If you need to take it with you when you travel, choose one that folds, is sturdy, and is lightweight.
Before purchasing, use a tape measure to measure the height your dog will need to climb and read the product description. That is sufficient.
The EndNote
If your dog frequently climbs up and down from high surfaces, he will require a ramp or stairs. You may wonder if your puppy is so active and appears to enjoy scurrying around the house that he doesn't really need a ramp. That is incorrect thinking because each leap can injure the puppy's ligaments and joints, only to discover later in life that he requires surgery. In addition, if you do not have pet insurance, the cost of surgery can be prohibitively expensive. Make a wise decision and take a step toward making your pet's life safer and more enjoyable.