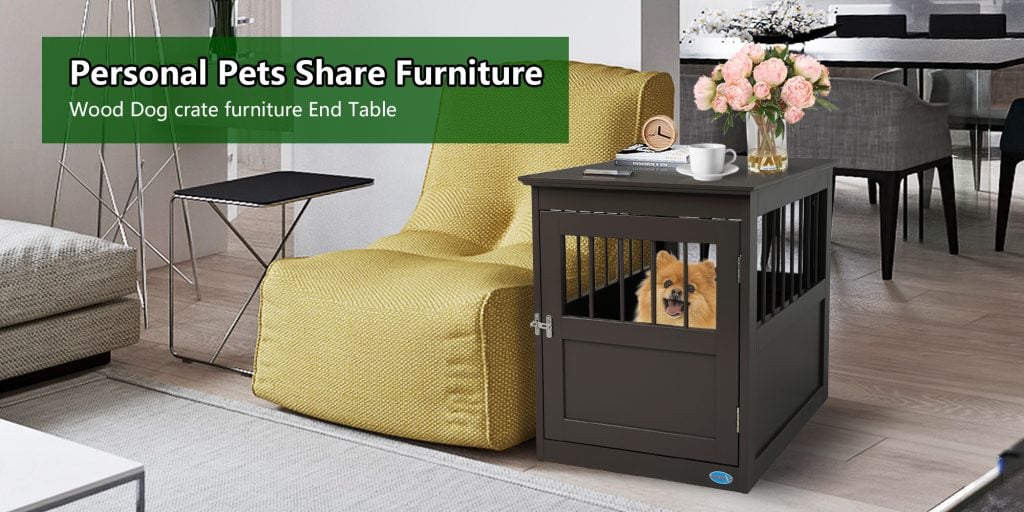 【VERSATILE PET CRATE FURNITURE】: Inspired by the mission of multiple functions, this luxury wood pet crate (24.4"L x 20"W x 27.5"H) with a smooth top is both a stylish end table and a safe shelter for your furry friend to rest. Featuring traditional rectangular brown appearance along with clean lines, this functional piece is an ideal addition to your bedroom or living room, suitable for puppies, kitties, and other small animals.
【STURDY AND DURABLE WOOD CONSTRUCTION】: Constructed of eco-friendly and pet-friendly premium density board (CARB P2) with a waterproof brown lacquer finish, this necessary piece is scratch-resistant, anti-crack, sturdy for long lasting. This wood frame can withstand the max weight of 33 lbs.
【SPACIOUS INNER WITH OPEN SIDE SLATS】: This crate is designed with a spacious interior (21.65"L x 17.3"W x 24.4"H) which can be decorated with a soft mat or bed to provide your lovely companion with the maximum comfort. It comes with open side slats (gap between each two slats is 2.36") for viewing and airflow, ensuring the pet inner peace of mind and avoiding the feeling of being confined.
【DOOR WITH DOUBLE LOCKS】: An openable door (17"W x 19.4"H) is equipped with double locks. One with magnetism can be easily opened from the inside by your beloved pet for easy access. The other with metal latch that can only be opened from the outside to ensure a secure enclosure when you are out.
【EASY ASEMBLY】: All parts included in your package are pre-numbered and pre-drilled. With a step-by-step manual, the crate is easy to install individually. Manual installation is recommended.