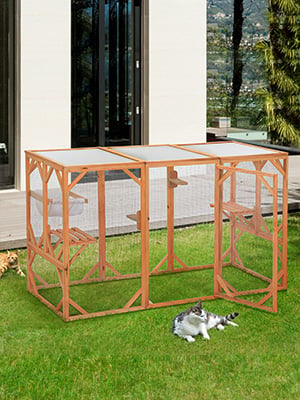 Do your cats long to play in the fresh air?
This COZIWOW Outdoor Multi-Cat Wood Catio will be a great solution to meet your cat's needs while releasing your worry about safety.
A large ventilated cat kennel with multiple fun allows your beloved cat to climb, jump, scratch, or sleep freely. Set up the enclosure outdoors to create a popular activity space for cats to enjoy a sunbath.
Features:
Large yard cat house with multi tiers to keep your cats active and safe outdoors
Can be utilized for play with single or multiple cats
Enough room for various outdoor activities such as climbing, jumping, or lounging
Made of premium pinewood and pet-friendly galvanized wire mesh for durability
The solar top roof protects your cats from the rain and offers a comfy sunbath
Hammock offers soft and warm lounging spot and a luxurious napping experience
Excellent choice for cat lovers who want to keep their cats safely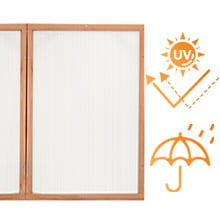 The solar top roof protects your cats from the rain and offers a comfy sunbath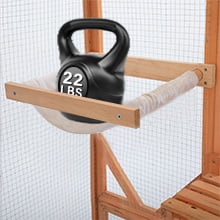 1 hammock as an extra resting bed can support the max. weight of 22 lbs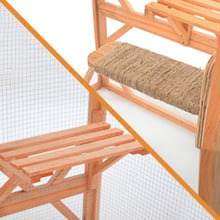 2 platforms and 2 sisal rope steps allow your cat to jump, climb, and scratch
Rotating solid door lock to protect kittens