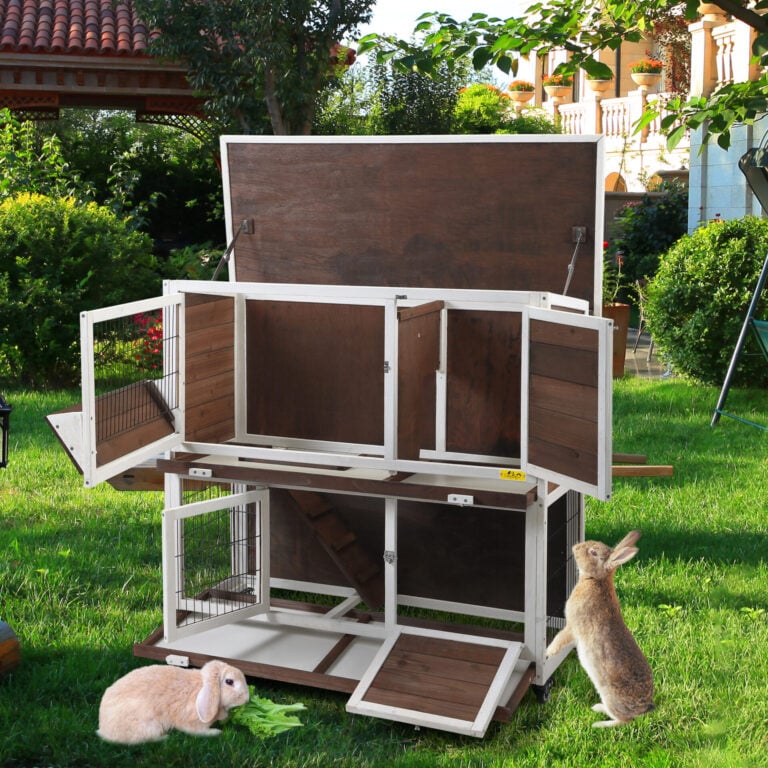 Product Description
With 4 doors with metal latches and a flip-up asphalt roof, this rabbit hutch could give handy access of keeping in or taking out your pets and pave a a layer of cotton cloth in the rest box. Plastic coated steel wire mesh is applied in large scale to ensure good ventilation and sufficient sunlight as well as reliable protection against predators. Entirely crafted with natural solid fir wood through water-based lacquer soaked process, the cage keeps good resistance to moisture or mildew based on the sturdy, healthy and comfy properties. Meanwhile On the door of the upper compartment a large feeding slot is fixed to store hay and grain, partitioned by a steel mesh that is used to control the flow of food. Besides, 4 casters are configured on the bottom of the whole hutch while 2 of them are lock-able, contributing to effortless moving and stop.
People no matter adults or children incline to be addicted to bunnies' loveliness and it's time to get your little pet friends a comfy and safe home.
Features
Double tier rabbit house, sufficient space for bunnies
Flip-up asphalt roof, isolating rain, heat and radiation
Solid fir wood construction processed by lacquer soaking
Good resistance to moisture or mildew
Coated steel mesh for good ventilation, lighting and protection
4 lockable doors and 2 pull-able waste trays for easy access and cleaning
Large feeding slot with steel mesh, storing pet food and controlling the flow
4 casters and lock-able 2 of them, contributing to effortless moving and stop
Assured quality and good after-sale service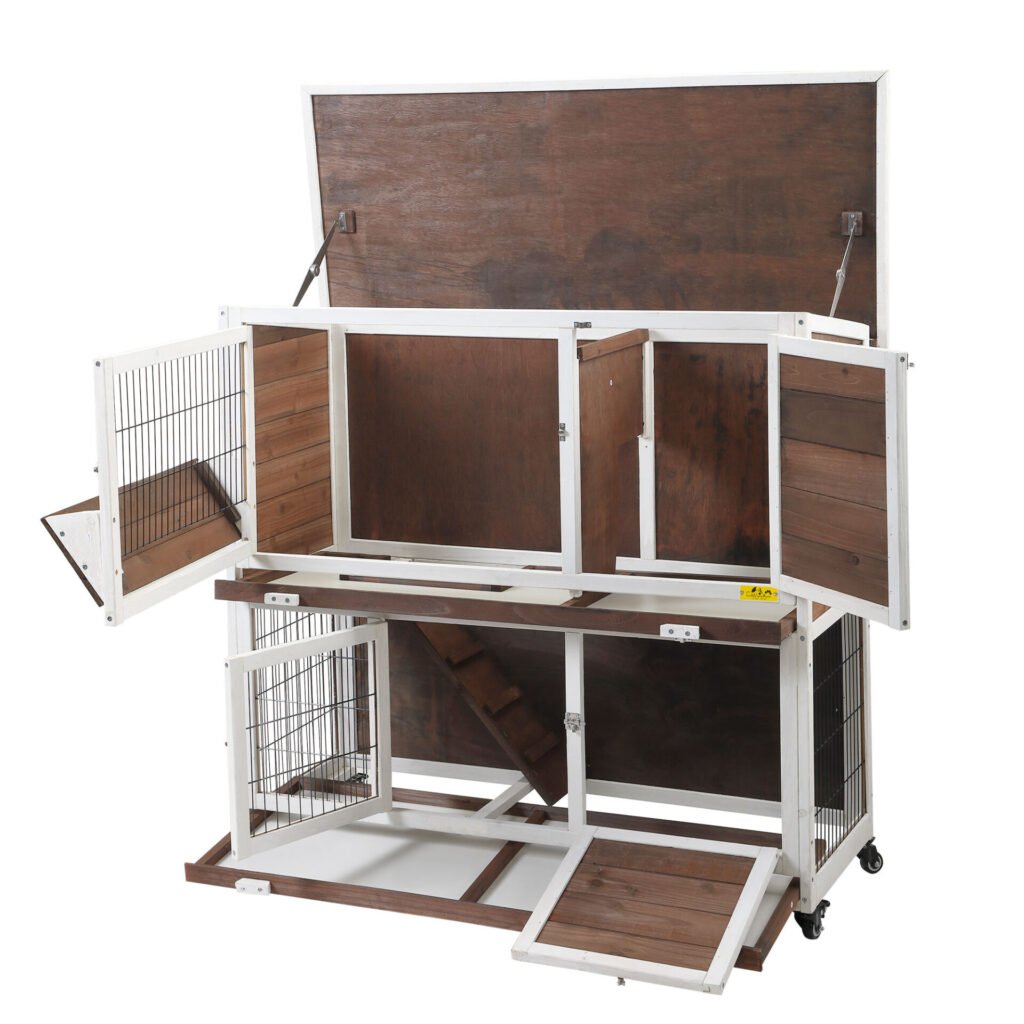 Good Ventilation & Protection
There's a run where your bunny can enjoy exploring on the grass, plus wire fencing that keeps predators out but also allows ample ventilation.
Sturdy Material & Coating
Made from fir wood and coated in waterproof paint, this cute hutch is worth considering if you want to give your rabbit a chance to experience nature.
Excellent Indoor & Outdoor Mobility
Equipped with 4 universal wheels and two of them with brakes, these allows you to easily move this house from indoors to outdoors. Easy to push around on the wheels on thick carpeting or floor.
Easy to Clean
At the bottom of the enclosure are 2 pull-out sliding trays that help provide a comfortable and hygienic environment. The trays are made of high hardness plastic and only need to be cleaned with water. An openable roof and two front doors for easily cleaning and feeding.